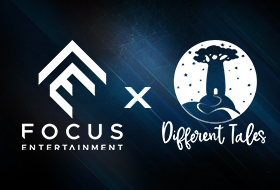 24 March 2022
Focus Entertainment and Different Tales team up for a brand new project
Focus Entertainment is pleased to announce a partnership with Polish studio Different Tales for a brand new title. An independent studio that has received multiple awards, Different Tales is made up of a passionate team where artists, writers, former journalists and games industry veterans combine their talents to offer experiences that push the boundaries of video games. Integrity, inclusion and tolerance are the values ​​of Different Tales - values ​​put at the service of creativity and storytelling full of emotion and messages of hope.
The Focus Entertainment and Different Tales partnership will bring a game that promises an immersive and benevolent experience, where players will explore universal themes as well as their own sensibilities.
"From the very beginning, Focus seemed to be the perfect partner for us because of the values we share," says Jakub Radkowski, Board Member of Different Tales. "They paid attention to aspects of the project, such as the narrative, that are very important to us. Their great commitment makes us confident that the game will be better than if we were to publish it ourselves."
"Our partnership with the Different Tales team is built around common values, bringing hope" explains Yves Le Yaouanq, Chief Content Office at Focus Entertainment. "A vision, underpinned by narrative excellence, already demonstrated in the studio's previous games and by its talent. It is this collective spirit, which we find in this collaboration, where the current challenges of our world respond to a sense of the marvelous: how to build and rebuild, to be an actor of change within a community. Both a slice of life tale and a simulation game, this upcoming title offers players a unique blend of emotive storytelling, crafting and strategy: the partnership with Focus was therefore obvious."