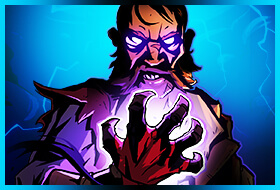 14 January 2021 / Curse of the Dead Gods
Curse of the Dead Gods hits PlayStation 4, Xbox One, Nintendo Switch and PC, ending its successful Early Access on February 23rd
Passtech Games and Focus Home Interactive are excited to announce that after a successful Early Access, the unique and demanding roguelite Curse of the Dead Gods will officially release on February 23rd to PlayStation 4, Xbox One, Nintendo Switch, Steam and Epic Games Store. Watch the Release Date Reveal Trailer today and discover the dark secrets that await you in the Temple.
Curse of the Dead Gods succeeded throughout its Early Access period on Steam, maintaining around 90% positive reviews on Steam thanks to many tweaks and additions based on community suggestions. Alongside the vast array of content already available, the release will launch with a brand-new update featuring the true ending of your journey leading to the God of Death itself. This is also the first time the game arrives on consoles, releasing simultaneously on PlayStation 4, Xbox One and, in a new announcement, on Nintendo Switch.
"The full release of Curse of the Dead Gods wouldn't have been possible without all of the incredible work from the entire team and our excellent community of Early Access players," announced Sylvain Passot, Studio Director at Passtech Games. "The amazing community that has grown around the game has really pushed it to the right direction. We can't wait to welcome all the players to the Temple and we're looking further ahead to 2021 for new exciting content."
Curse of the Dead Gods is available now in Steam Early Access and will arrive on February 23rd for full release on PlayStation 4, Xbox One, Nintendo Switch and PC. For more information, visit the official website.