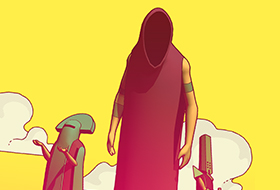 20 April 2022 / Chants of Sennaar
Chants of Sennaar: the enchanting indie game playable for a few days at PAX East 2022. Check out the trailer and Steam page opening.
After having recently unveiled their partnership with a new entry in the Focus INDIE SERIES, Focus Entertainment and Rundisc are proud to present Chants of Sennaar at this year's PAX East with a playable demo. Starting tomorrow, players and journalists can play the game for the first time by joining Focus Entertainment's booth #12043. For the occasion, the enchanting indie puzzle game opens its Steam page. Check out the trailer of the game!

A captivating journey driven by a unique language system
In this narrative adventure, discover an enthralling universe with enchanting art direction, as you restore the connections between the mysterious peoples of the Tower. Explore a beautiful world with a story inspired by the myth of Babel, where ancient languages are both the lock and the key.
Chants Of Sennaar will release on PC and Nintendo Switch. Players can already wishlist the game on Steam, but also create a Focus account and subscribe to the newsletter to get the latest info about the whole Focus catalog.