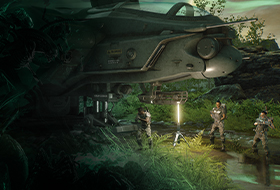 15 December 2021 / Aliens: Fireteam Elite
Aliens: Fireteam Elite's today introduces an all-new game mode with the release of Season 2: Point Defense
Cold Iron Studios and Focus Entertainment are proud to announce that Season 2 of Aliens: Fireteam Elite is now available for all players across Xbox Series X/S, Xbox One, PlayStation®5, PlayStation®4 and Steam™. Watch the trailer now.
Season 2 includes free items for all players, including a new mode called Point Defense. This fast-paced alternative to Horde Mode, will challenge players in a new survival-based defensive match where your fireteam must protect, repair, and hold 3 different strategic points through multiple attack waves from the Xenomorph hive. Players may buy temporary consumables to even the odds by utilizing Fabrication Points earned during the mode and can unlock up to 20 new rewards by completing the mode at various difficulties.
Season 2: Point Defense features the following free content:
New Game Mode: Point Defense

New Feature: Lifetime Stats

New weapons, attachments, and cosmetics added to the game as Point Defense rewards or at the in-game store:

4 New Weapons

13 New Attachments

New Cosmetics:

2 Head Accessories

3 Weapon Colorways

5 Decals

5 Emotes
The second Endeavor Pass content is also available today. The Nostromo Salvage Pack contains the following content:
Two "Nostromo" themed outfits for each class kit (12 total)

4 Head Accessories

8 Weapon Colorways

4 Decals

4 Emotes

1 Pack of 3 Consumables

1 Credits Pack

12K Requisition Credits

750 Reputation Scrip

1 Pack of 3 Challenge Cards
Aliens: Fireteam Elite's Season 2: Point Defense is out now, with up to 40% off as part of the Focus Publisher Sale on Xbox and up to 43% off on Steam for a limited time. Today, Aliens: Fireteam Elite also joined the Xbox Game Pass for PC and console. The Standard and Deluxe Editions are available now on Xbox Series X|S, Xbox One, PlayStation 5, PlayStation 4 and PC. The Deluxe Edition includes the Endeavor Pass and the Endeavor Veteran Pack. The Endeavor Pass grants players access to DLC Seasons 1-4. Visit the official store for more information.