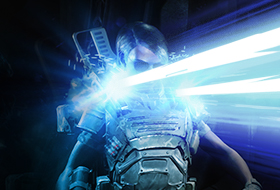 20 April 2022 / Aliens: Fireteam Elite
Aliens: Fireteam Elite's Season 3: Lancer is now available!
New Free S3 Content Now Available to Returning and New Players, Endeavor Pass Holders Receive Third Paid Seasonal DLC Drop
Cold Iron Studios and Focus Entertainment are excited to share the latest Aliens: Fireteam Elite content update – Season 3: Lancer – is now available for PlayStation 4, Xbox Series X|S, Xbox One and PC players, with PlayStation 5 coming at a later date. See below for additional details on the Season 3 content!
Following the release of Season 2: Point Defense last December, Season 3 launches with a brand-new, must-try playable class: The Lancer. This heavy class will allow Colonial Marines to blast through incoming Xenomorph hordes and improve their squad's defensive efficiency with its ability to carry heavy weapons and fire them continuously, dealing increasing damage to their targets thanks to a unique perk that rewards immobility with increased firepower. This Lancer class is accompanied by the introduction of the Presets feature that allows players to switch between different Marine loadouts on the fly without the need to reassign individual cosmetics, consumables, weapons, or perks. With up to 10 customizable presets available per weapon and class, players will even be able to experiment with multiple loadouts and playstyles for any of the game's 7 playable classes.
The Season 3: Lancer's free content update includes the following:
New playable class kit: The Lancer

New feature: Loadout Presets

More than 30 new customization items to unlock through gameplay, including brand-new weapons, head accessories, cosmetics, perks and more…

New Challenge Cards
Additionally, all Aliens: Fireteam Elite Deluxe Edition owners will also receive the UACM Frontline Pack, the third paid seasonal DLC of the Endeavor Pass which offers fans exclusive cosmetic items, such as new exclusive character skins, head accessories, weapon decals, emotes and more! Visit the official store for more information.