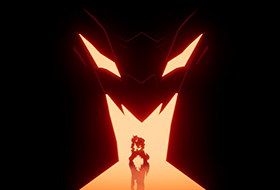 30 September 2021 / Aeon Must Die!
Aeon Must Die! unveils its release date with a 5-min gameplay trailer!
Aeon Must Die!, the stylish and powerful beat 'em-up, is launching on October 14 on PlayStation 4, Xbox One, Nintendo Switch and PC. Feast your eyes on the bundle of new screenshots released today, showcasing the unique, anime-inspired art style of the game. Dive into the heart of interstellar combat with the Raw Gameplay Trailer and get ready for an existential sci-fi massacre on October 14!
Incredible visuals only matched by brutal, over-the-top action
Mixing inspirations from manga and graphic novels, Aeon Must Die!'s visual and animation style will blow your mind. Watch it gloriously play out in this uncut gameplay trailer where a range of spectacular combos and moves are featured. Enjoy the unique, wild and stunning art direction of the game with a generous fresh batch of fourteen screenshots released alongside the trailer.
In Aeon Must Die!, experience Aeon's interstellar story of betrayal, love and revenge in a spectacular beat 'em-up that features breakneck risk-reward gameplay, innovative AI and tactical fighting that draws inspiration from legendary fighting games. Betrayed by his generals and left for dead, Aeon barely manages to merge with you, a common starspawn, to take the fight back to them and exact revenge.
Travel across the futuristic city of Pantheon, fight for power, freedom and free will, all in an unparalleled art style.
Aeon Must Die! is releasing on October 14 on Playstation 4, Xbox One, Nintendo Switch and PC. Early buyers who purchase the game anytime before October 28 will get the Wrathful King Set DLC for free, which includes a skin for Aeon and his bike!