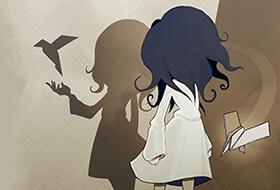 22 December 2020 / Shady Part of Me
A new trailer to celebrate the incredible reception of the press and players!
Announced during The Game Awards ceremony and available the same day on PC, PlayStation 4, Xbox One and Nintendo Switch, Shady Part of Me has received incredible feedback. Focus Home Interactive and Douze-Dixièmes are pleased to offer a dreamlike and emotional adventure that has been greeted with overwhelming positive reviews from players and the press. In our Accolade Trailer, we celebrate the warm welcome that Shady Part of Me has received. The game is also eligible for a special 10% discount on all platforms until December 24th.
Featuring the haunting voice of Hannah Murray (Game of Thrones, Skins), Shady Part of Me is an emotional and poetic fable with a unique artistic direction. Throughout your adventure, alternate at any time between a little girl and her shadow in an elegant mix of 3D and 2D. The duo will have to learn to cooperate in order to progress through a dreamlike world.
Since its release, Shady Part of Me has already made a lasting impression on the hearts and minds of players and the press as they see it as "the golden nugget of this end of the year" - CNEWS. While critics acclaim Shady Part of Me as "One of the best puzzle-platformers seen this year" - PC Invasion fitted with a "fantastic" - PC Invasion artistic direction, with "remarkably imaginative" - TechRaptor puzzles and with a "breathtaking soundtrack" - Screen Rant, the developers from Douze Dixièmes proved their expertise by creating an original and captivating first game.
Shady Part of Me is available on PlayStation 4, Xbox One, Nintendo Switch and PC. Take advantage of a 10% discount on the price of the game until December 24th. For more information, visit the official website.