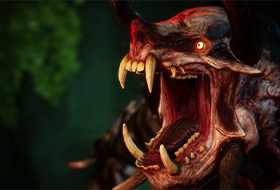 3 June 2022 / Warstride Challenges
Warstride Challenges' vibrant post-launch brings several updates and an ecstatic Reaction Trailer!
Warstride Challenges, the intense, fast-paced FPS developed by Dream Powered Games and published by Focus Entertainment, is available now for all players in Early Access on Steam. Discover joy, excitement and maybe a bit of rage from our players in today's Reaction Trailer as well as the warm reception from press!

The Warstride journey continues
Following its recent Early Access launch on Steam, Warstride has already dropped a series of updates, introducing 24 new challenges by adding the Very Hard levels to Chapters 1 and 2, a deadly new power—Stomp, a more accessible Level Editor, and improved UI and functionality with a new main menu and bug fixes.
Even more lands today with 4 new 'Big Fun Levels' added to Chapters 1 and 2 in Very Hard, as well as new content for the level editor such as the Carabine! The community has a lot to still look forward to in Warstride Challenges!
Race, aim, fire!
In intense trials, blast hordes of demons at lightning speed before the timer runs out. Die and retry to get to the finish line and achieve the highest score. Since its launch in Early Access, many players and influencers have battled through the game—their reactions were priceless!
Warstride Challenges is a community-driven game at heart where you can share your experience with others. Compete with anyone — be it friends, foes or streamers — in the Nemesis Mode, where you can race asynchronously in any challenge. The community has also already made incredible use of the game's Level Editor, with some notorious trials already available to test your mettle.
Warstride Challenges is available on Steam in Early Access. Check out theEarly Access Road Map to see all the planned upcoming content.