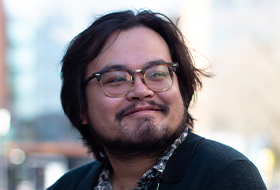 23 March 2022
Meet Hugo Lemaitre, Media Buyer
Could you please introduce yourself?
Hey! I am Hugo Lemaitre and I have been an Media Buyer for two and a half years here at Focus Entertainment.
What are your tasks as Media Buyer at Focus Entertainment?
As a Media Buyer, I am in charge of advertising campaigns – from a project's reveal to its release date and beyond - to make sure each of our games will be played and enjoyed by the right audience worldwide.
All of our advertising campaigns follow a strategy - the budget, countries & targeting, duration, and creative assets – and an objective: For this communication, do I want this game known or considered for purchase by the chosen audience for instance?
For that purpose, I use self-served tools such as Twitter, Google, and TikTok following the strategy and objective above. I am also in contact with advertising vendors around the globe for external media such as TV, websites such as PC Gamer, Eurogamer, or other formats and media.
Then comes the reporting and analytics part so I can always improve the performances campaigns after campaigns.
In your opinion, what are the qualities of a good Media Buyer?
First of all, it needs a lot of organization because there are different games to promote at the same time. And rigor, because you would spend a lot of money, so be careful!
Of course, you must not be afraid of data and figures as there is a lot to manage and analyze all the time.
And finally, creativity is really important because the video game industry is super competitive so you would need to always stand out from the competition with innovative and impactful ways to reach the right audience.
Have you always wanted to join the industry?
I was always interested in working in the entertainment or cultural industry but the more I grew up and finished games, the more I refined my choice to work in the gaming industry.
So I am really glad to work at Focus Entertainment discovered after having played to Styx years ago.
And I am thrilled to work on our next projects such as A Plague Tale: Requiem, Warhammer 40,000: Space Marine 2, Evil West, and more!
Why would you recommend Focus Entertainment?
In addition to the diversity of Focus Entertainment catalog past and future, it is always a pleasure to work among so many genuinely lovely people!